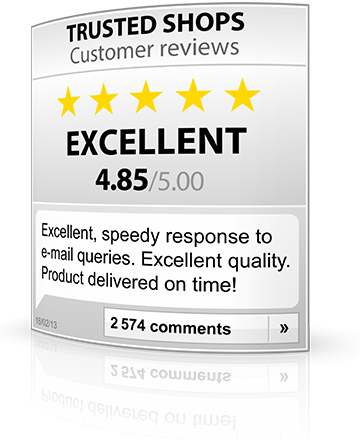 For you by you!
How to read costumer reviews
Get involved: costumer reviews are a good guide which works best when lots of people take part! When the quality of a shop is assessed, it is also important that the independence and authenticity of your rating is ensured – like the Trusted Shops costumer reviews.
Our tips for reading the Trusted Shops customer reviews quickly:
The Trusted Shops costumer reviews enables you to see a compact summary of the ratings directly in the shop in the form of a maximum of five stars, a written school grade and an index from 1.00 to 5.00! Click on the widget to open a detailed rating profile from the URL https://www.trustedshops.com.
Back to top
In the rating profile, stars are shown for delivery, goods and customer service. You can see information next to each one showing how often the individual criteria have been rated.
The stars for the individual criteria make up the overall grade. If the shop has received a lot of very good ratings, the grade is correspondingly good – an excellent indicator of whether the shop's quality is consistently high.






Good and very good ratings should significantly outnumber poorer ones. However, it's worthwhile reading the few good reports, as these often enable you to see how a seller reacts to criticism.
As these comments should be in the minority, these are, of course, perfect for fast skim-reading.
Back to top
Support a shop whenever you've been happy with its service. You will receive a request from it to enter a rating, for example when the goods have been dispatched. You will find a link in this e-mail. Clicking on it will take you to the Trusted Shops costumer reviews, where you can rate a shop for an order.